The biggest and best malls in Istanbul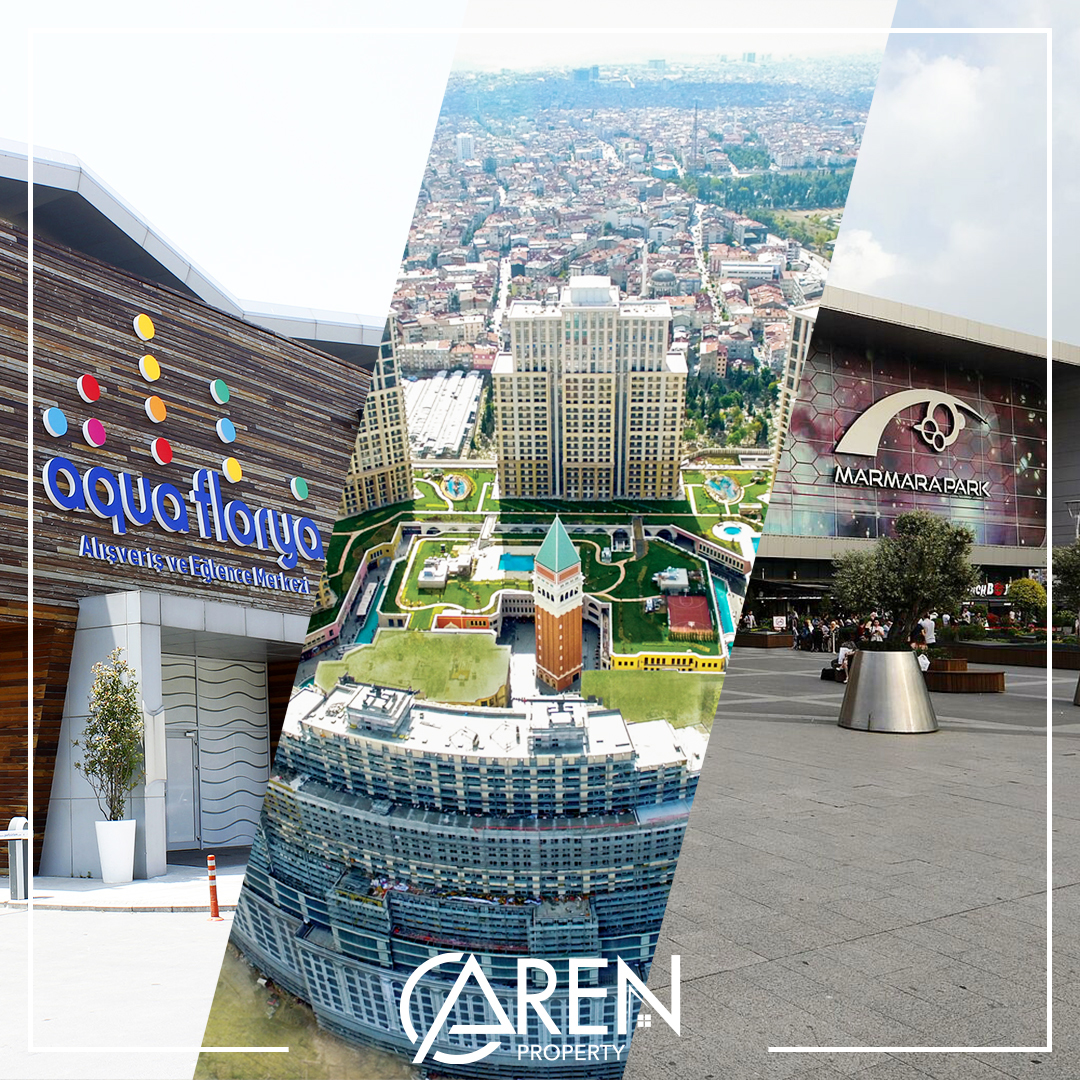 The biggest and best malls in Istanbul
The largest and best malls in Istanbul
In the following article, we will know about the largest and best malls in Istanbul and their features.
---
1- Mall of Istanbul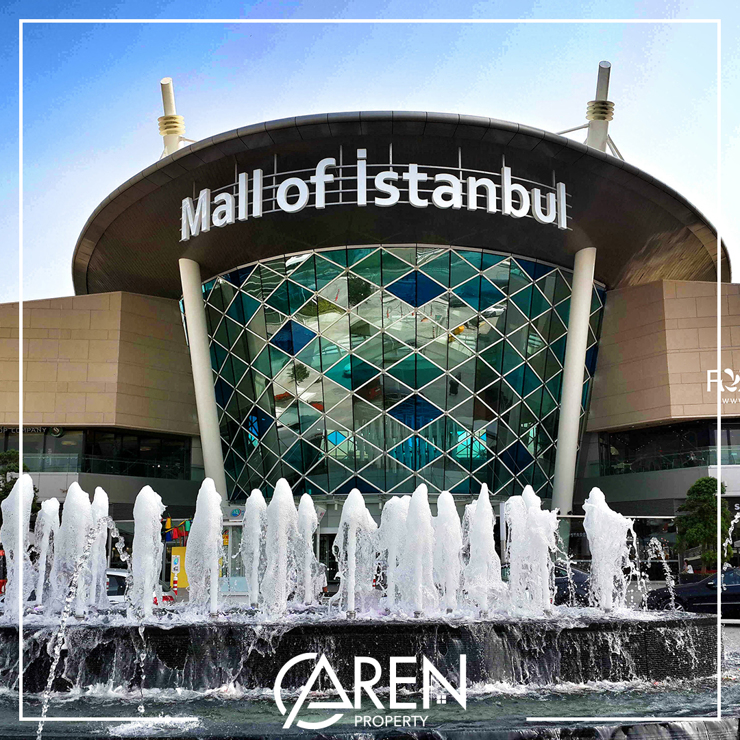 Mall of Istanbul is considered one of the largest and most beautiful Istanbul malls, and is considered one of the largest shopping and entertainment centers in Turkey , as it attracts huge numbers of tourists who love fun, shopping and entertainment. It is the first place that meets all their requirements together in a place during their tourist tour in Istanbul.
It is located in the prestigious Başakşehir district, which is a well-known area, witnessing amazing urban growth and progress in Istanbul. The Mall of Istanbul consists of a shopping center and four towers, two of which are residential towers, one of them is commercial, and the other is a hotel, as we mentioned previously.
Mall of Istanbul was opened in 2014 to include 4 residential complexes and an office building, in addition to a huge hotel, in addition to the shopping center building, which has an area of ​​approximately 150,000 square meters and was wonderfully designed distributed over four floors that include entertainment, shopping, restaurants and everything else. you wish
Features of Mall of Istanbul:
The mall of Istanbul is one of the largest shopping centers in Turkey in general and Istanbul in particular:
indoor amusement park
Restaurants and cafes
Recreational areas
16 cinema halls with modern digital audio-visual technologies
83 Escalator
42 elevators
350 stores
5 gates, three main and two subsidiary
snowy park
Hotel with a capacity of 300 rooms
---
2– Istanbul Cevahir Mall
Istanbul Cevahir Sisli Mall is located in the center of Sisli, which has many world-famous brands specializing in clothes, bags and watches.
It is one of the most famous old malls in Istanbul. It is known for its many various stores, the big game city, and the bowling area. It is characterized by the diversity of its Turkish stores, and its advantages are its location and the possibility of having more sizes and goods than other malls, but the disadvantage of the mall is being crowded and has short ceiling.
Features of Istanbul cevahir mall :
The Turks call it the Mall of Arabia, due to the large number of Arab visitors
At the opening of Cevahir Mall, there was a wonderful celebration attended by President Recep Tayyip Erdogan and the Mayor of Istanbul
In 2005, Cevahir Mall was opened to be one of the largest shopping places in Europe and the world. It was named among the Turks as "Mall of Arabia" in relation to the number of its annual Arab visitors. Istanbul Cevahir Mall is one of the most attractive malls for visitors and tourists in Turkey in general, as it has all What people need.
Istanbul Cevahir Mall includes approximately 230 shops of the most important and prominent international and local brands specialized in the sale of clothes, shoes, accessories and everything needed for the family from home furniture and electronics, in addition to restaurants, cafes, entertainment venues and others, which are distributed over 6 floors and contain about 2500 parking spaces.
Istanbul Cevahir Mall is outstanding by its wonderful design, a huge clock in the middle of the ceiling , and around it are many windows through it the luminous fountains emit, the most beautiful lights during the day.
---
3– Vadi Istanbul Mall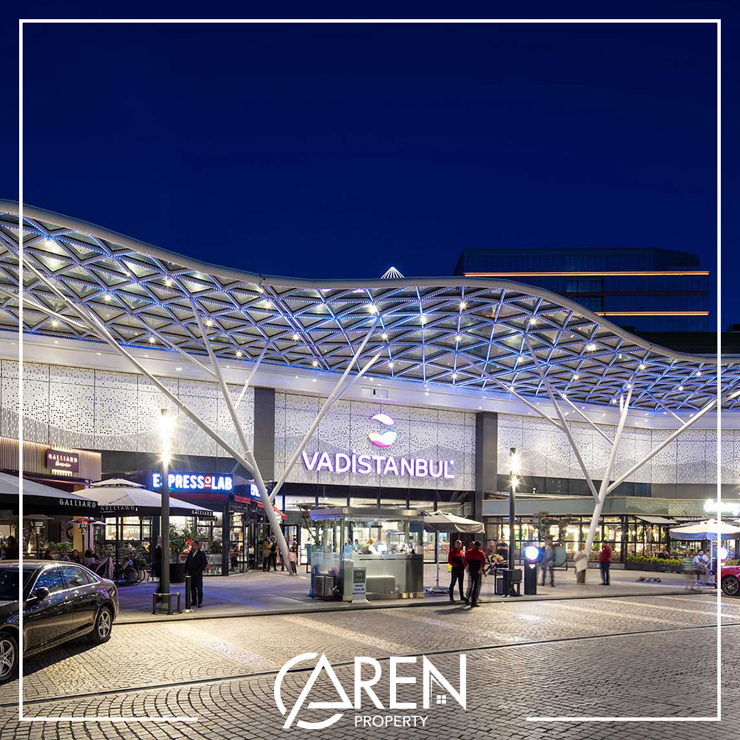 It is located within the Istanbul Valley area. Vadi istanbul mall is considered one of the largest shopping centers in Turkey, and one of the best distinctive Istanbul malls, and extends over an area of 103 thousand square meters, and the huge shopping complex includes more than 270 stores of clothing and fashion stores with leading international brands. .
Features of Vadi Istanbul Mall :
Games for young and old
A cinema hall equipped with the latest projection technology
It is noteworthy that the mall is located within the Istanbul Valley complex, which is one of the most important residential projects in the region, which is characterized by its direct view of the vast forests of Belgrade.
Total area: 100,000 square meters
Number of floors: 4
Number of shops: 270
Of course, Istanbul malls are charming with their designs, advanced architecture and huge area, but Vadi istanbul mall is different from its counterparts as it has unparalleled designs that give joy to the human spirit in addition to a wonderful experience of shopping.
Originally, Vadi Istanbul was established as a residential project, then a tower was added to it as a 5-star hotel and then the mall, and Vadi Istanbul Mall is famous for its huge water pool, as it was not famous in vain. Charming graphics, night and day.
---
4– MARMARA PARK Mall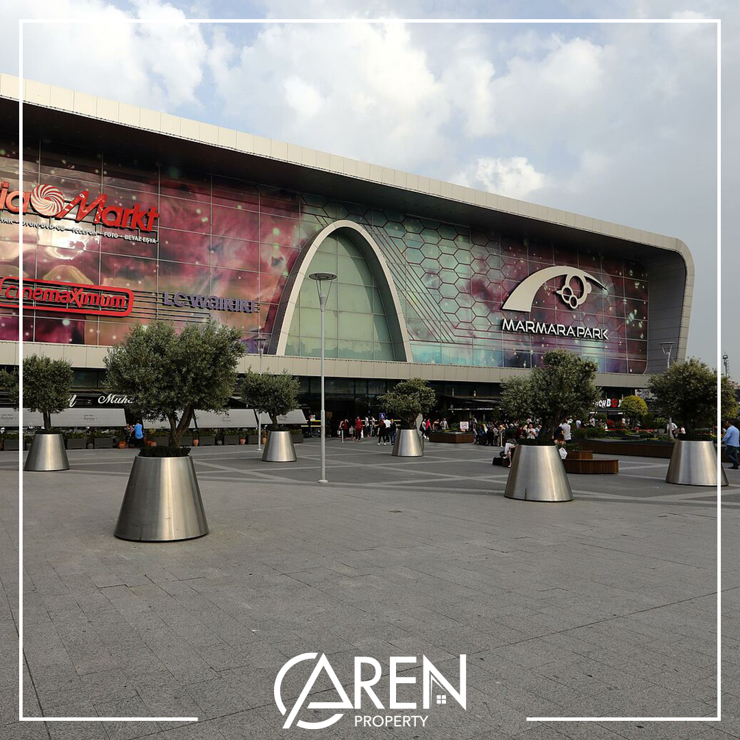 Marmara Park Istanbul is located in the Esenyurt , which includes a large parking lot, a prayer room for women and men, and other service facilities.
Marmara Park Alışveriş Merkezi Mall is one of the best and largest European Istanbul malls, which attracts thousands of visitors and shoppers during tourism tours in Istanbul to acquire a variety of luxurious goods that meet all the needs of the family and the modern home, in addition to forms of entertainment that suit different tastes and ages.
The most distinctive feature of the Marmara Park Mall is its wonderful design inspired by the solar system, where the focus was placed on the fact that its shape from the inside resembles the galaxy, leaving everyone who visited it amazed by its beauty.
It is worth noting that a smart device is located on the first floor of the Marmara Park Mall. The function of this device is to inform new visitors of the exact details of the mall and the locations of shops and restaurants, to save them time and trouble searching within its wide corners.
Featurs of MARMARA PARK :
Total area: 100,000 square meters
Floor height: 4
Its location: Istanbul - Guzel Yurt Mahalci / Esenyurt
Number of shops: 250
Garage for 4000 cars
Opening date: October 18, 2012
The most famous brands in Marmara Park are:
Zara
Boyner
C&A
H&M
Koton
Saturn
Victoria's Secret
---
5– Venezia mall Mega Outlet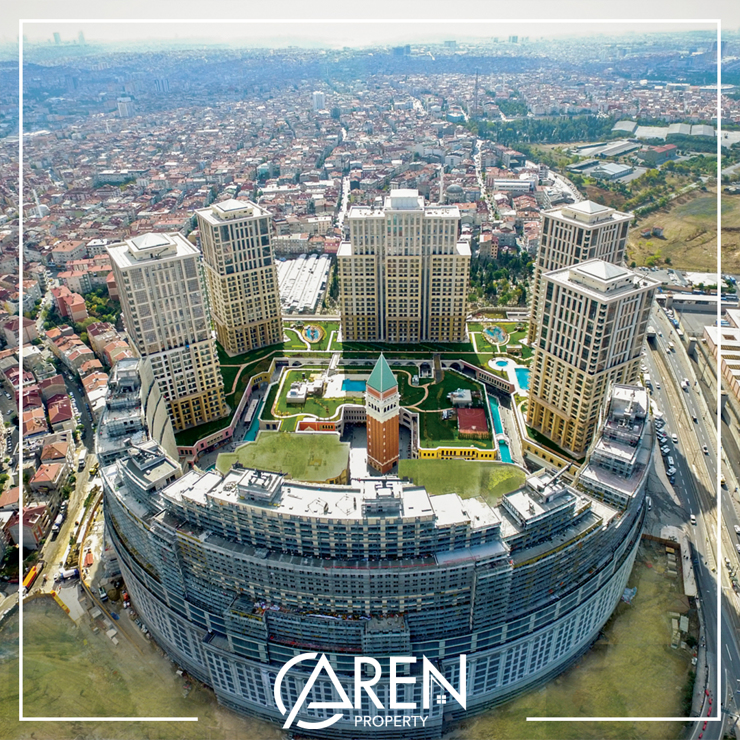 The Venice Mall of Istanbul is a city in the heart of a city. Once you approach this huge complex from outside, you will think that you are on the outskirts of Venice in Italy.
All this and more made the Venice complex Istanbul the focus of attention for visitors to Istanbul, and an important destination for all its visitors, and therefore, rarely neglected an Arab or foreign tourist, due to his wide fame and distinguished location.
You will be amazed in the Venice Istanbul complex as you wander by boat, where an ancient square was built in the middle of Italian and international restaurants, and you will feel like you are really in the charming Italian city of Venice. Also known as the Mall of Venice, the Venice Mega Mall Outlet includes more than 180 various shops.
With its charming design inspired by the Italian city of Venice, Venezia mall Mega Outlet tops the list of the best malls in Istanbul, competing with the jewels of Istanbul cavahir, mall of Istanbul and other famous malls, proving that it is no less important than them.
Perhaps riding the boats running within its artificial lake is the most beautiful thing that you can experience within its quiet and huge surroundings, and the Italian music will not leave your ears throughout your enjoyable tour, or perhaps eating delicious food in the open air would be a great idea as well.
It is worth noting that Venezia mall Mega Outlet is the largest of the outlet malls, which offers special prices and offers throughout the year at a lower value than other malls.
Features of Venezia mall Mega Outlet :
Residential towers: 5
Area: 82000 m2
The number of floors of the mall: 3
Residential towers floors 16-30
Number of shops: 180
---
6– Aqua Florya Mall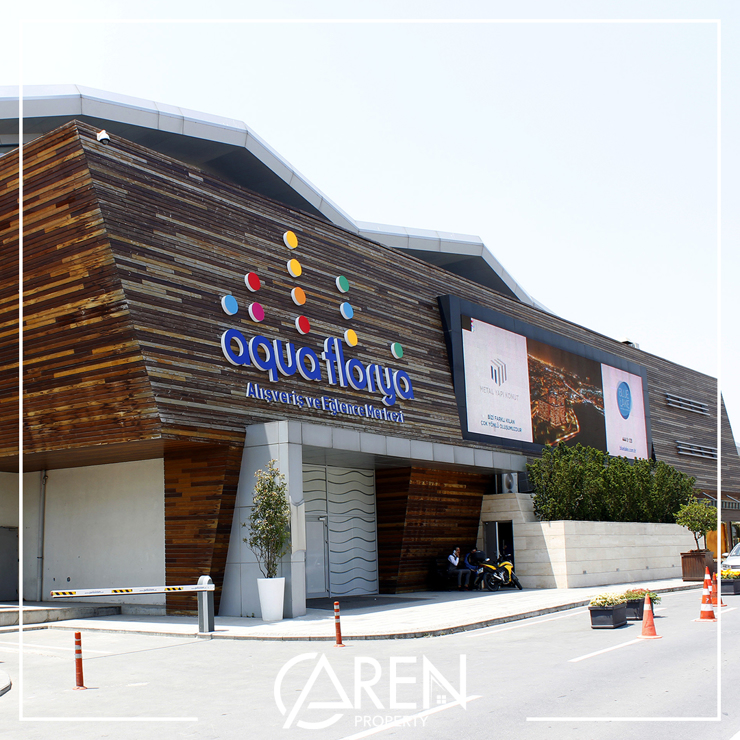 Aqua Florya is one of the best malls in Istanbul, which is the first destination for Arab visitors in terms of unique shopping places and one of the most beautiful malls in Istanbul.
Where the Florya Mall Istanbul attracts the attention of tourists from different groups and countries while they practice their holidays in Turkey.
The modern, high-end stores, which number 145, contain all kinds of necessary necessities from the finest international brands around the world.
The Florya Istanbul complex was opened at the beginning of 2012 with its superbly beautiful and innovative design by the best experts around the world, with an area of ​​52,000 square meters.
The location of this luxury mall near Florya Beach, the most beautiful beaches of Istanbul, made it one of the most important places for tourists coming from all over to buy necessities and have a natural picnic with an intuitive and charming view of the eyes.
Features of Aqua Florya Mall :
It is located near Ataturk International Airport, which makes its location special.
It is considered one of the most important elements of tourism in Istanbul.
Florya Mall opened in 2012.
It extends over an area of 50,000 square metres.
Florya Mall includes international brands.
Florya Istanbul Park is located near this famous mall.
Florya Mall competes with the largest malls in the world.
It contains the largest shops.
Overlooking the sea and below it is an aquarium where sharks walk!
---
7- Historia Shopping and Life Center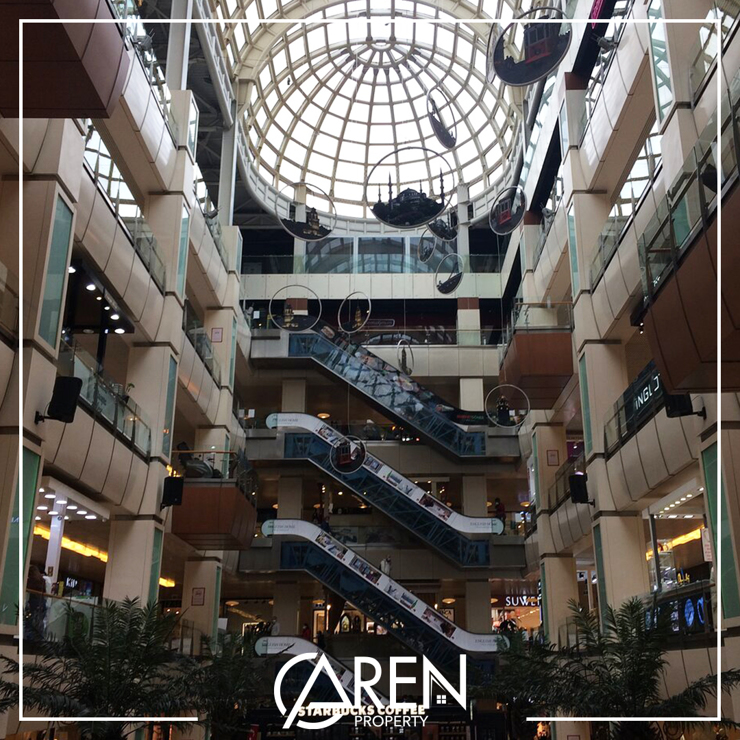 Historia Shopping Istanbul is one of the most beautiful malls in Istanbul, located in the city center in the Fatih district in particular. The mall consists of 6 floors filled with various shopping and entertainment options. The most important thing that distinguishes Historia Shopping Istanbul is the huge water fountain in the middle of it that gives the atmosphere more fun and fun. The mall is one of the most important tourist destinations in Istanbul for shopping and entertainment enthusiasts together, and one of the most attractive tourist destinations in Turkey for visitors.
It is one of the elegant, lively, modern complexes in European Istanbul, and contains many high-end brand stores, in addition to a variety of restaurants and cafes.
Despite its relatively small size compared to the rest of Turkey's malls, it is one of the most important malls in Istanbul, where Historia Shopping is characterized by its location near the tourist places in the Fatih district, the heart of old Istanbul, which makes it always intended by tourists in general and Arabs in particular.
Features of Historia Shopping and Life Center :
The cinema inside Historia Mall Istanbul is one of the fun entertainment options. Be sure to watch the latest international movies inside the mall's showrooms with a 3D feature, and the cinema in the mall has 8 screens for cinematic viewing.
The food options inside the Istanbul Historia Mall guarantee you and your family a delicious and varied lunch. There are famous dining brands such as McDonald's, KFC, and others in addition to outlets that offer oriental food and grills, pizza and delicious Italian pastries.
If you are a fan of bowling, you can enter a match inside the hall attached to the Historia Mall, the time you will spend in this place will add more fun and start your tour of the mall.
You can complete your tour in the area by visiting nearby tourist places such as Arab Street in Istanbul, Friday Market in Istanbul and Panorama of Istanbul.
As for the women of the family who are looking for all the integrated kitchen supplies, this Raqi mall also contains many sections that sell all kitchen supplies at the cheapest prices.
You can read the following two articles to learn more about this topic
Real estate appraisal in Turkey
Advantages of real estate residency
To know more about life and information about Turkey, you can see the following articles:-
What are the documents required to obtain Turkish citizenship in return for buying a property?
Important amendments to obtaining Turkish citizenship by owning real estate
What are the documents required to open a bank account in Turkey?
Contact your real estate advisor now for more details via WhatsApp
To view our projects, the best investment areas

Turkish Citizenship in One Click
Get your Turkish Citizenship by investing $250,000 now